Campaigns
The Christmas List we can't forget: sign up and save lives
While people across the UK are looking forward to spending Christmas with their loved ones and exchanging gifts 6,891 people on the waiting list for a donated organ will be hoping they will soon get the gift of a transplant.
Through our Christmas List campaign, we are highlighting the stories of patients waiting for a transplant and those who have received them, along with donor families and nurses who support families when they donate a loved one's organs, to encourage everyone to join the NHS Organ Donor Register.
Sadly, not all of those waiting will get the transplant they need. On average three people a day across the UK die in need of a transplant - that's over 1,000 people every year. 401 patients have died while waiting on the list this year, and their families will be facing Christmas without them.
Other people have had much better fortunes and will be able to celebrate Christmas looking ahead to a brighter future. 4,168 patients across the UK have received a transplant already this year thanks to the amazing decision of families agreeing to donate a loved one's organs.
Get involved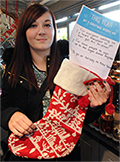 Your Christmas List
Hannah, 21, from Hampshire, has heart failure, and needs a battery powered pump to keep her heart beating. Like around 7,000 people she is spending Christmas waiting for a transplant. She said: "Christmas is a time for family and friends, and a time full of joy to celebrate life. Without organ donation, me and many other people may not get the chance to see any more Christmases, to fulfil any more dreams, and most of all, to just enjoy living."
She is supporting the campaign and shares her Christmas list.
Download and print your Christmas List here:
Fill it in with two wishes supporting organ donation and a third fun one of your own
Take a 'selfie' holding up your wishlist
Share it on social media with #donationwish
For those with a little bit more time on their hands we have produced an organ donation bauble template just print it off and cut out and create your own bauble. Put it up on the tree at home and have a chat with your loved ones about your decision to be an organ donor. Good luck!