Campaigns
Join our team of organ donors. Sign for Life.
Football clubs from across the country are supporting our new organ donation campaign Sign for Life, running from 16 February - 1 March.
We're urging lovers of the beautiful game to think about organ donation and to be inspired by their club's support to join the Organ Donor Register and then share their decision with friends and family.
Football is our national sport and we hope to harness the passion that fans have for the game and for their team through this campaign to offer hope to all those who are waiting for a transplant.
Three people die every day in need of an organ and there are currently around 7,000 people on the waiting list, as there are simply not enough organs available.
A single organ donor can transform the lives of up to nine people. If more people signed the register and their families then agreed to donate their loved one's organs, more lives could be saved.
The campaign is being supported by clubs across the country, from player endorsements to social media activity to match day programme adverts.
We are thankful for the support of the clubs below and are encouraging others to get behind Sign for Life however they can, to help us save and improve more lives: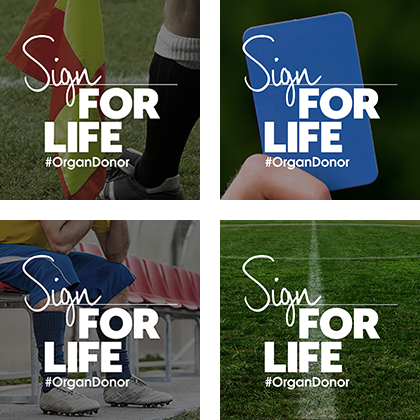 Aston Villa
Bolton Wanderers
Bournemouth
Charlton Athletic
Chelsea
Crystal Palace
Derby
Everton
Ipswich
Manchester City
Newcastle United
Notts County
Plymouth Argyle
Portsmouth
Queens Park Rangers
Reading
Rochdale
Rotherham
Sheffield Wednesday
Southampton
Stoke City
Sunderland
Swindon Town
West Bromwich Albion
Wigan Athletic
How you can get involved