Facebook Partnership
Our Facebook page provides a forum to discuss and raise awareness of organ donation.
Facebook users can share their decision to join the NHS Organ Donor Register on their Timeline. Step-by-step instructions on how to do this are below.
The Timeline feature allows people to record major life events on their profile. A 'Health and Wellbeing' menu forms part of the Timeline feature. People can highlight their intention to become an organ donor or record that they have joined, but they cannot join the Organ Donor Register using the timeline function.
To officially register as an organ donor Facebook users can click through to NHSBT's Facebook page or join here.
Read the full press release about our Facebook partnership.
How do I show I have joined the Organ Donor Register in my Timeline?
Please note: Adding a Facebook 'Life Event' to your Timeline will not register you to the NHS Organ Donor Register. Similarly, removing a 'Life Event' from your Timeline will not remove your name from the NHS Organ Donor Register. You can register here or by calling 0300 123 23 23. To join, amend or remove your name from the NHS Organ Donor Register you must contact us using the methods above and tell your family about your decision..
Step 1: Go to your Facebook profile page (click on your name at the top right of the screen) and select "Life Event" at the top of your timeline.

Step 2: Via "Health and Wellbeing", select "Organ Donor"
Step 3: Select who this information should be public to, with the "Public" pull-down menu. (Completing fields for County/Region and your story is optional.)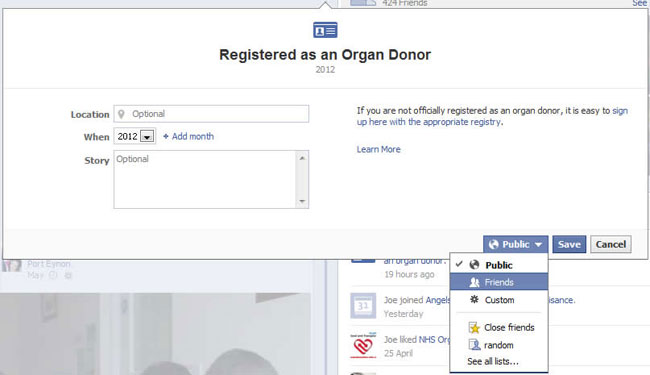 Step 4: Select "Save"
The story will now appear in your Timeline and the newsfeed of friends you according to the selection made under "Public"