Campaigns
Our 10th anniversary campaign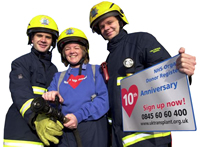 The NHS Organ Donor Register celebrated its 10th anniversary year in 2005. The year was one of challenge and success with a fantastic programme of high profile events and community activities.
The One Million Challenge
One of our aims was to encourage a million more people to add their names to the register by 5 October 2005. By 19 September we had hit this target!
Thousands – probably tens of thousands – of people carry an organ donor card but aren't on the NHS Organ Donor Register. During the special anniversary year we asked these donor card holders to "register the card" by joining the register. This is the best way they can make sure their wishes are known.
The campaign continues
The anniversary year has come to and end but the message remains the same: talk about organ donation, join the register and encourage your loved ones to do the same!